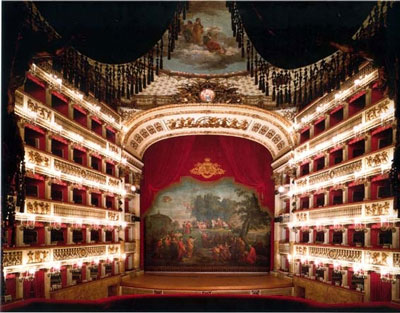 I know--no one is going to believe for a second that I don't know what opera is. No, this is more an "ignorance of origins" kind of post. I came across this little aside in Jacques Barzun's
From Dawn to Decadence
, correcting my and doubtless many others' assumptions about the word.
"Incidentally, the word
opera
is not, as one might suppose, the plural of
opus
, Latin for work. It is another Latin word,
opera
,
plural
operae
, which means
willing
work instead of the necessary or forced labor implied by
opus
.
By extension,
opera
was used by the ancient Romans for any elaborate undertaking, just as we say, "a production". The word certainly fits the reality of staging one of these works as it is described in the history of the great opera houses: a battle with wounded and vanquished before roles and wills are subdued into a temporary unity."
I am an opera fan, though as may easily be suspected, a relatively ignorant one. Barzun surprised me again by saying that it wasn't until the middle of the twentieth century that a divide between music devotees and opera fanatics was healed, the music lovers looking down on the opera types, who often weren't interested in any other sort of music. What brought them together in realizing their common ground? Barzun says it was the advent of the LP, which made it possible to see that the opera without all the hoopla of the production was, in fact, musical. It's always interesting to learn that something we take for granted wasn't at all obvious before some new innovation makes it possible to see or in this case hear things differently.